GCC Hotel and Club
@ Maharashtra, Mumbai
Off Mira Bhayander Road, Mira Road (East), Mumbai – 401107
For individuals arriving early or extending their stay by one day after the AIPC event, the following accommodation options are available:
1. Quadruple sharing: 1000 per person.
2. Triple sharing: 2000 per person.
3. Double sharing: 2500 per person.
Please note that the payment should be made directly to the hotel.
Check in on Tuesday – Sep 26 & Check out on Thursday – Sep 28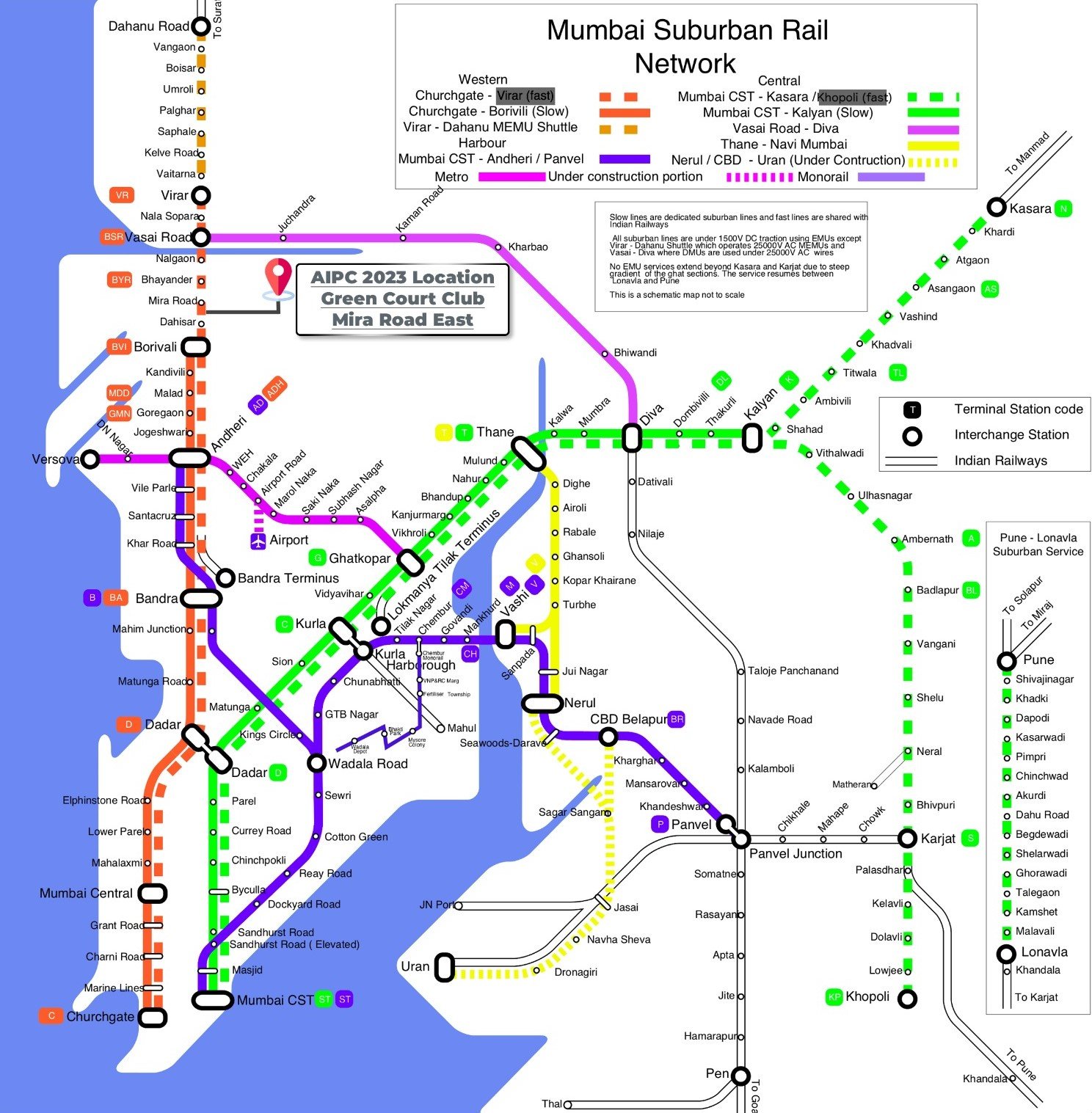 Option 1: By Train
The closest railway stations to the venue, listed in order of preference, are:
a. Borivali
b. Thane
c. Vasai
a: From Borivali Station
If you arrive in the morning or afternoon, it is advisable to take a local train from Borivali to Mira Road.
However, from 4 PM to 10 PM, the local trains are very crowded, so it's best to avoid them during this time.
An alternative option during these hours is to take a cab (Uber or Ola) from Borivali to the venue.
b: From Thane Station
If you choose to get down at Thane, you can take an AC Bus to Mira Road, which starts outside Thane station.
Please find the closest bus stop to the venue for a more convenient journey.
Alternatively, you can take a cab (Uber or Ola) from Thane to the venue. However, be prepared for heavy traffic during peak hours, i.e., early morning or after 4 PM.
c: If Your Train Passes Through Thane
If your train route includes Thane but is bound for destinations like CST, LTT, Mumbai Central, or Dadar, you can take local trains from there to Mira Road.
Option 2: By Flight
The distance between Mumbai Airport (BOM) and GCC Hotel and Club, Mumbai is 21 km. The road distance is 22.7 km. The journey takes approximately 1 hour and 17 minutes.
For those arriving by flight, you will either land at the Domestic or International airport, depending on your carrier.
The best way to reach the venue from either airport is to take a cab (Uber or Ola).
Additional Information:
To help plan your journey efficiently, you can use the MIndicator app. It provides local train and bus routes, timings, and fare costs.
Avoid taking the local train for transportation between 8 AM to 12 PM or 4 PM to 10 PM due to heavy crowding.
Expect high traffic during these peak hours, so plan your travel accordingly.
We hope this stepwise travel information helps you have a smooth and enjoyable journey to the venue. If you have any further questions or need assistance, feel free to contact us. Looking forward to welcoming you to the event!